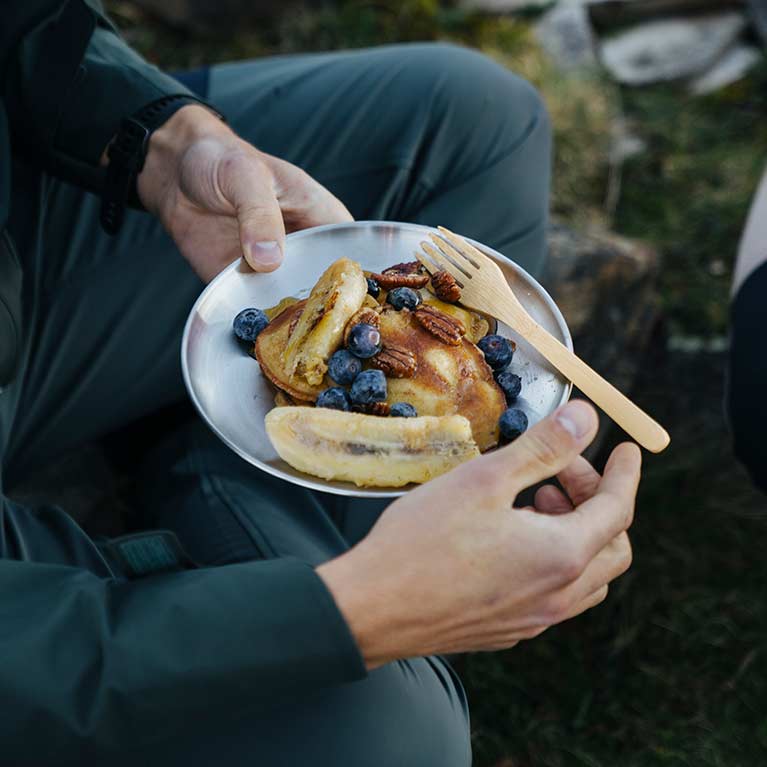 Fluffy pancakes with caramelized banana
approx. 15 pc




Batter


2,5 dl wheat flour
2 tbsp sugar
1 pinch of salt
2,5 dl milk (3%)
2 tbsp melted butter
1 egg
1 tbsp baking powder


Topping


3 bananas
1 dl liquid honey
1 dl pecans
50 g butter (for frying)
Blueberries (optional)



Directions:


Mix the dry ingredients, except for the baking powder, in a bowl. Add the milk, then the butter and at last the egg, stir in between adding these ingredients. Whisk until smooth, pour in a thermos and keep in the fridge. Bring the baking powder in a small container and add to the batter right before starting frying. Make sure to shake the thermos well before pouring into the pan.

Split the bananas by the length and fry in a generously amount of butter on both sides. Add the pecans and drizzle honey.
Add some butter in the pan. Measure 1 tbsp per pancake, one pan fits approx. 3 pancakes. Fry for 1,5 min, until you can see small bubbles. Flip and fry for another 1,5 min. Serve with the bananas, honey and nuts.